I adore shoes! If I have a weakness (and I do!), it is shoes. However, (allow me to pat myself on the back here) I have excellent self-control when it comes to buying shoes. I rarely indulge. BUT, if someone were to offer me a shoe shopping spree, this would be one very happy girl!
While it wasn't exactly a shopping spree, I was offered my choice of two pairs of shoes from Payless Shoes to try out! Who would turn that down?!? I accepted without hesitation and happily perused their website over and over again trying to decide on the two perfect pairs of shoes. In the end I decided on a pair of Western boots and a pair of wedge pumps. My reasoning: I live in Texas and didn't own a pair of Western boots – a tragedy that had long needed to be rectified, and a girl can ALWAYS use a new pair of pumps, right??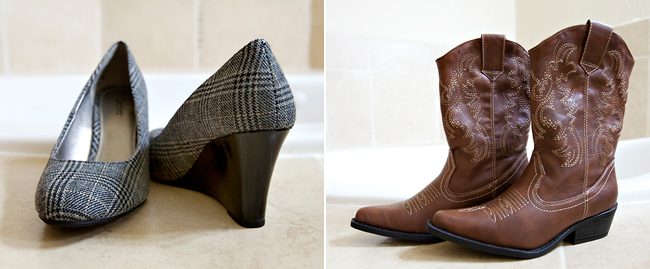 Before I go any further, I have to preface this post with the fact that I'm a photographer and NOT a model. And I also must add that my husband is no photographer. Watching from the other side of the camera as he tried taking pictures of me wearing these shoes was hilarious! And I can imagine watching me as I was being photographed was equally amusing. We both agreed that we should keep our day jobs! 🙂
I wanted to show the shoes off with a variety of outfits to highlight how versatile they are. We did manage to get some shots of me wearing the boots with two different outfits, but the wedge pumps ended up being paired with only a pair of jeans. In the end, I think that is perfect because I would typically only wear these pumps with either jeans or slacks.  This is for two reasons: 1) You will find me wearing jeans 99% of the time if it is too cold for shorts, and 2) I'm short, so I like using the opportunity to wear my longer pants with a heel in order to give myself a nice boost and get some good use out of those pants that are a tad too long for flats.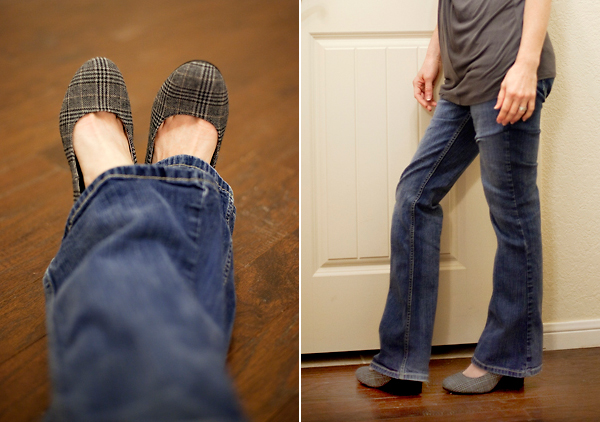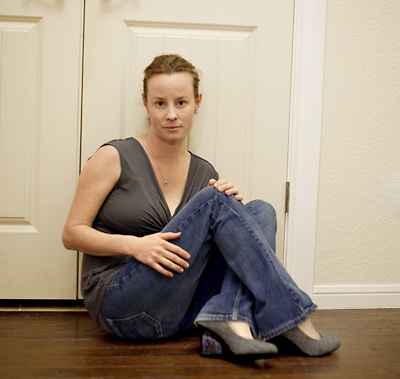 These Kylie Wedge Pumps by Dexter work fabulously with this pair of jeans that I love! (I did pull the legs of my jeans up slightly in the above right picture so you could see more of the shoes.)  And the grey/black plaid is so versatile! I wore a grey shirt for the pictures, but could also easily wear black, blue, red, white, or pretty much any other color!
The 3 1/2″ wedge heel is shiny black and a perfect compliment to the plaid material. And with a padded insole for comfort, and a flexible outsole, these shoes feel great! While they do, in my opinion, take a bit of breaking in just as any other shoe does, my feet felt right at home in them in no time!
I really love these Payless shoes and see them becoming my primary go-to during cooler weather when closed-toe is more appropriate than open-toe. And with a 4.5 star rating based on 72 reviews at payless.com, it seems that a lot of people agree with me!
Next up is the Women's Wanda Western Boot by American Eagle.
I have always admired Western boots, but have never been brave enough to buy and wear them. So this was the perfect opportunity to try it out with nothing to lose! And I have to say, I wish I had done it sooner. These boots are FUN! They pair well with my beloved jeans, of course, but there is so much more you can do with them! Have a denim skirt you want to wear them with? Sure! How about a bright sundress? Yep! That works too! Maybe a sweater dress? Try it out! I've even seen people wear Western Boots with shorts! Admittedly, I just might be tempted to try that once summer rolls back around. 🙂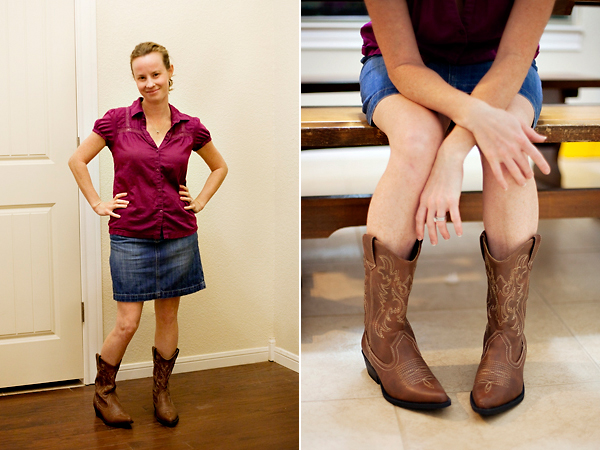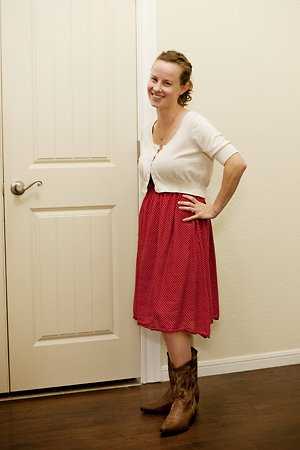 These boots can be dressed up or down; I would wear them to church, on a picnic, out shopping, on a date with the hubs, to a classy get-together, or even out to a dusty rodeo (that is, if I ever happened to attend a rodeo….). There are so many ways you can wear these, and they all look good! At least I think so, and that's what counts. 😉
The Wanda Western Boots feature a pointed toe, faux leather, mid-calf upper, gold threaded stitching and handy pull tabs for an easy on and off. And a heel of 1 3/4″ gives just the right lift!
As far as comfort goes, these do pretty well. Not having experience with other Western boots, I can't offer a comparison, but with a good pair of socks, these didn't hurt my feet! If anything I wish they had a bit more built-in arch support, but that is easily remedied with support you can slip into the shoe.
Overall, these boots are a great value and the perfect option for someone who is a nervous boot wearer, such as myself, and hesitant to drop hundreds on something you're not sure about. I don't think you will be disappointed!
Visit Payless ShoeSource Today.