Hearthsong is known for their unique quality toys and I can't think of a better fit for our Summer Fun for Kids event than this great company. When I asked if they wanted to participate, they offered to send me a pair of their Buddy Bumper Balls to review.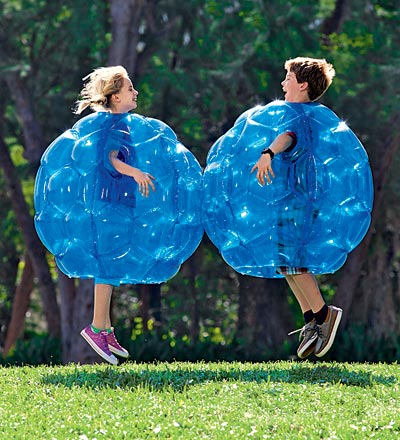 Of course I agreed – don't they just look like fun?! And are they ever a perfect toy for the summer! HearthSong Buddy Bumper Balls are large translucent blue balls that fit kids ages 6 and up. When each of their six chambers is inflated with air, they let kids jump and bounce into each other for tons of fun.
The balls come deflated and you'll need an air pump for inflating each one. Believe me, you do not want to attempt blowing these up by mouth. We had an air pump for our air mattresses and even with that, it still took a good 10-15 minutes to inflate each ball; yes, they're pretty big! Each ball has six chambers for inflating.
Once the balls were inflated, the kids headed outside to try them out.
They were jumping and bouncing all over the place! Their laughter was so contagious, some of our neighbors even came out to see what the fun was about!
My kids discovered that they could do somersaults in their balls too. I'm not sure if this is actually recommended or not, but I think this was their favorite part.
Nathan and Emily had tons of fun jumping in the air, bouncing at each other, hiding in their balls, and even stopping for a quiet break to relax in their balls. They will both bring a book outside and curl up inside their balls to read. Of course popping out to say "Boo!" is fun too!
My only complaint is that the inflation valves open up easier than I'd like. After 15 minutes or so of jumping around, usually a couple of the valves have opened and we have to stop, close them, and sometimes re-inflate because some air has leaked out. Aside from that, the balls are actually sturdier than I thought; they've held up to a lot of jumping and rolling around. They're made with a sturdy PVC material which is pretty strong because we've had no leaks so far.
Each Buddy Bumper Ball is $39.98 each or you can buy two for $69.97. It's a little pricey in my opinion, but then again it's hard to put a price on the hours of fun this has provided for my whole family. Even my little boys love the Buddy Bumper Balls because they think it's funny to watch their bigger siblings jump around and "pop out." Luke will even crawl into one and giggle and squeal because he thinks it's so neat.
Visit HearthSong Now.